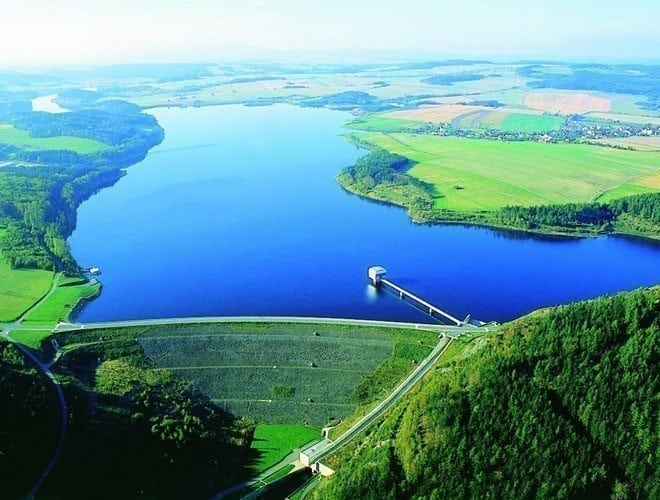 Ok, so I know Prague can be very romantic. You can walk around the cobbled streets holding hands, have a romantic dinner somewhere in a park or look at the city from the river while riding a boat and drinking champagne. But let me assure you, that the romance does not end here. Czech Republic is full of wonderfully romantic places. Just hop on a train, and take your lover somewhere far away from the tourists, to some beautiful country where you can relax and enjoy each other's company. If you're looking for something like that – a romantic getaway to Slezska Harta would definitely be something to consider!
Slezska Harta is one of the largest dams in Czech Republic, located in a beautiful valley in the northeastern part of the country, the Moravian-Silesian region. It is a true gem of northern Moravia, spreading throughout an area of more than 8 sq.km. with a maximum depth of 80 meters. The foothills of Jeseniky mountains offer great hiking experience, while the lake is perfect for swimming. Motor boats are forbidden on Slezska Harta, since the dam supplies water to nearby towns and villages, but yachting and fishing are quite popular.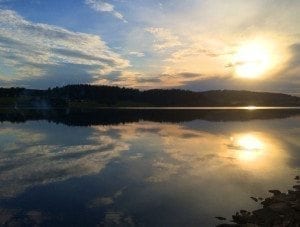 There are two types of accommodation on Slezska Harta.
The first one is perfect for those who enjoy the peace, freedom and privacy of living in a tent. Just find a good spot near the water away from everyone else, put your tent up and relax. Remember, that fires are forbidden on Slezska Harta, so you'll have to bring a portable kerosene stove. You can visit the nearby villages to get groceries or go for a beer in a pub full of locals. Although, I guess if you're there for a romantic getaway – you won't be needing any pubs. Another option is to book accommodation in a nearby town. Leskovec nad Moravici, Razova, Nova Plan and Roudno are basically right on the lake, and offer some good accommodation deals for an average price of 400 czk per night.
Getting there:  The easiest way to get to Slezska Harta is by train. Go to the Main Train Station, and get a ticket all the way to the city called Valsov (right next to the lake). First you will go to Olomouc, where you're going to switch trains to go to Valsov. Then just hop on a bus towards Nova Plan, and you're there!