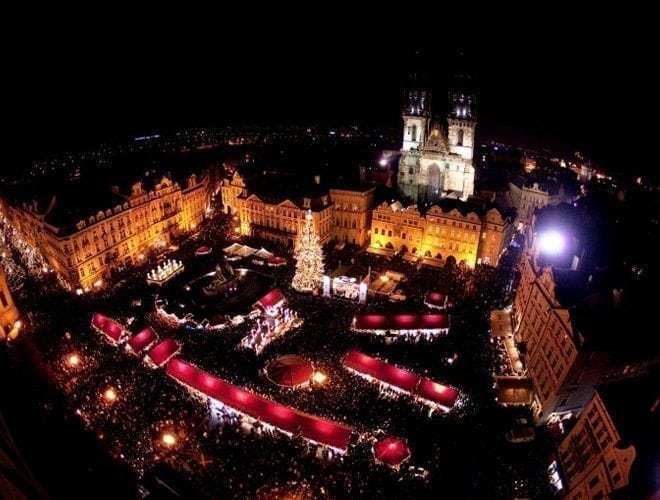 Only about 16% of Czechs are religious. Nevertheless, Christmas, or 'Vanoce' in Czech is the most important holiday in Czech Republic. And when I say "most important", I mean the whole country goes ballistic! Christmas sales start in… October! And get this: yesterday, November 11th, I saw a couple of trucks hauling Christmas trees…
I thought "Come on, don't you guys know what a calendar is?" I've been living in Czech Republic for over 6 years and I still cannot get used to all this frenzy making an almost non-religious nation go absolutely crazy. Christmas in Prague is associated with Christmas markets, hot wine, baked chestnuts, traditional Czech food and all the merriment and joy around these things, including all kinds of Christmas sales and discounts.
I am not going to go into details about how Czechs celebrate Christmas. There's lots of information about it on the Internet already. But if you're planning to celebrate Christmas in Prague – here's some advice to make your getaway a bit more interesting then getting drunk with hot wine at a market on the Old Town Square.
The discounts
If you're out for Christmas discounts, the Palladium mall on Namesti Republiky is not the best place to get them. Harfa, Letnany, Cerny Most and other malls located on the outskirts of the city offer bigger discounts and better prices on everything from shoes to jewelry.
The Christmas market
If this is your first time at a Christmas market you'd probably enjoy the one on the Old Town Square: hot wine, the famous 'trdelniks', all kinds of food, snacks, pastry, baked chestnuts and, of course, the souvenirs and other stuff noone really needs. What I don't like about the Christmas market in Prague is the lack of originality. Many of the vendors rent the space and fill it with mediocre-quality crap made in China. If you want an amazing Christmas market experience you must head to Dresden! Europe's oldest Christmas market is only 2 hours away, and you'll get a blast! Especially if you're traveling with your children.
The traditional food
The Old Town Square market is great for some traditionsl street food. But if you're up to try something Czechs eat on Christmas eve – it's carp in all imaginable forms: baked, fried, grilled and even boiled in a form of a tasty 'polevka' (soup). Check out restaurant menus for traditional Christmas meals and go try one. You won't regret it.