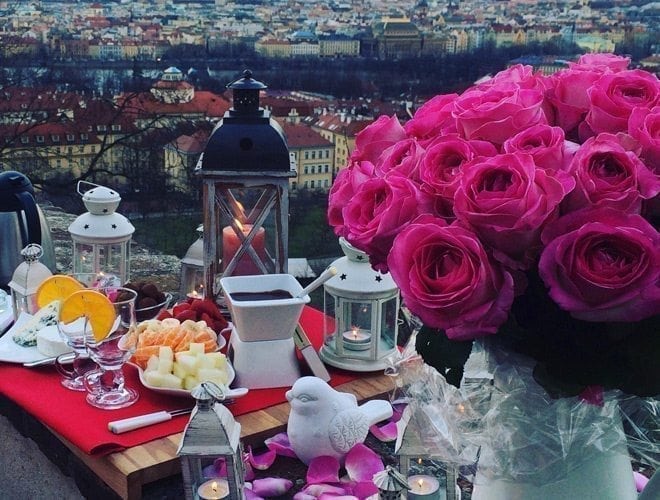 I love my job! Not only because I get to be part of some very important events in people's lives, but also because every day is different. You might think it's all the same: bring the stuff to the spot, arrange everything, wait for the clients to finish and go clean it all up. Well, in general you're right. But throughout the years I have so many interesting and funny stories to share I might as well write a book sometime.
An almost-failed conspiracy
Last year one of my clients came to Prague to propose to his girlfriend. She was visiting Prague together with her parents, and had no idea about her boyfriend's plans, let alone the fact he's in Prague too. And that was the hardest part: getting the girl to the location where her boyfriend was waiting for her. We had to come up with a good lie, so we told her that someone is preparing a party for her parents, and she must come to make sure everything is in order. My wife played the part of a restaurant manager, who met our girl at the bottom of the hill, and took her to the location. She was absolutely thrilled to find her boyfriend waiting there with a ring.
But the funniest thing was that with all this conspiracy, when our guy checked in to a hotel, he found himself living in the next room to his future fiancee! We were supposed to meet 3 hours before the event took place to set up the cameras, and he got delayed because he could not leave the room while his girlfriend was next door, getting ready to leave.
Sending french wine to France… from Czech Republic
Not too long ago I had a client from France, who proposed to his lovely girlfriend in Prague. They have spent a magical evening on Petrin Hill, and one of the things on their menu was a white chardonnay. He did not order any specific chardonnay, so I brought the one I love most – Fat Bastard. Now, I'm not going into how awesome this french wine is (try it and see for yourself), but the couple absolutely loved it. Some time later I received a message from him, asking me to send them a couple of bottles. Turns out – he searched all over the country, even contacted the winery only to find out they do not sell their product in France. Weird, right? So, I went to the store, got a box of this magnificent wine, and shipped it back to its homeland.
More stories to follow! So, check back soon.