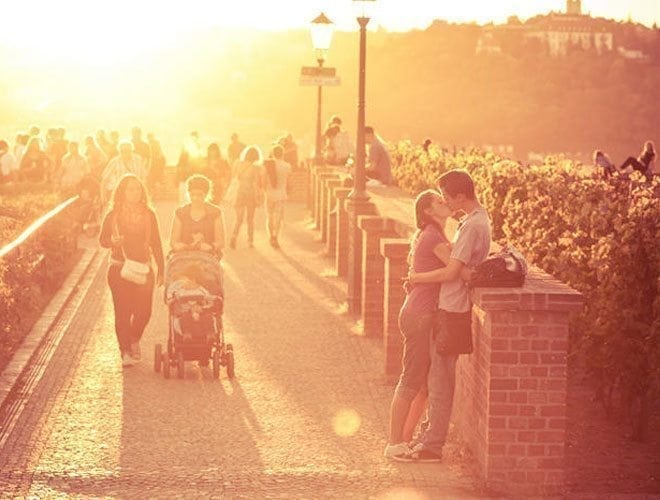 If you have read my previous post on romantic things in Prague, this one would be part two of my 'romantic Prague' series. As I walk around the city, search for different romantic ideas for my clients or plan their vacations, I keep stumbling upon some extraordinary things. There are thousands of romantic getaway ideas on the Internet, but to find something unique and wonderful at the same time is a challenge. Especially for someone coming to Prague for the first time. So, here are some more ideas you might add to your 'romantic Prague' agenda to make your trip even more memorable for your partner.
Stay at the One Room Hotel
Yep, that's right! A one-room hotel! And not just a room, but a six-star suite 70 m above the ground located in one of the cabins of Zizkov Television Tower. « The luxurious ambience in this hotel amplified by the unique view of the Prague panorama offers guests absolute privacy and an unforgettable feeling of exceptionality. You can relax among designer furniture and the most modern technology and rejoice in the view of Prague from a bird's perspective. » I don't think there's a better way to put it. I have been there just once when I booked the room for one of my clients, and I was absolutely mesmerized by the view and the atmosphere. In addition your romantic Prague trip can include some high-class dining with an amazing view at a luxurious restaurant located just 4 meters below your suite. Visit www.towerpark.cz for more details and booking.
Surprise your special someone with a romantic evening from 'Prague for Two'
It would not be a romantic trip without a wonderful, magical surprise! Imagine yourself casually strolling through the park, when suddenly you turn off the path and lead your lover to a quiet getaway spot with a fantastic view of the city at sunset. You sit down at a table surrounded with candles, uncork a bottle of wine and enjoy this precious moment together with your special someone. It is totally up to you whether you want just a snack, a dessert or a full meal. Anything is possible. The only important detail here is that you're together with someone you love, and you get to experience the truly romantic side of Prague. See the 'Services' page for more information.
Visit the Stefanik Observatory after dark
Now, this is something no tour guide or travel blogger will tell you. Frankly, not too many people even know about this. If you and your special someone are up for something as magnificent as looking into deep space – a visit to the observatory on Petrin Hill should definitely be on your romantic Prague getaway agenda! The observatory was opened in 1928 and now has three domes hosting two telescopes. Undoubtedly, among such things as a scientific exhibition and film demonstrations, the most amazing thing the observatory can offer is public daytime and nighttime observation of the sky, available during the whole year whenever the weather is suitable. So, check out the sky above, and if you can see the stars – take your lover up to Petrin Hill and get familiar with deep space at the Stefanik Observatory. More information can be found here: www.observatory.cz.
See Mozart's 'Don Giovanni' where it originally premiered in 1787
The Estates Theater (Stavovske Divadlo) is located in the heart of Prague, and is famous for its close collaboration with Mozart. In fact, Mozart himself conducted the premiere of his 'Don Giovanni' in Prague. Not too many theaters in the world carry such an honor, and if your partner enjoys an occasional opera, you should definitely pay a visit to The Estates Theater. Even if you don't actually get to see 'Don Giovanni' per se, dressing up and taking your special someone to this cosy little theater would be a fantastic addition to your romantic Prague trip. More information is available at www.narodni-divadlo.cz.
To be continued…