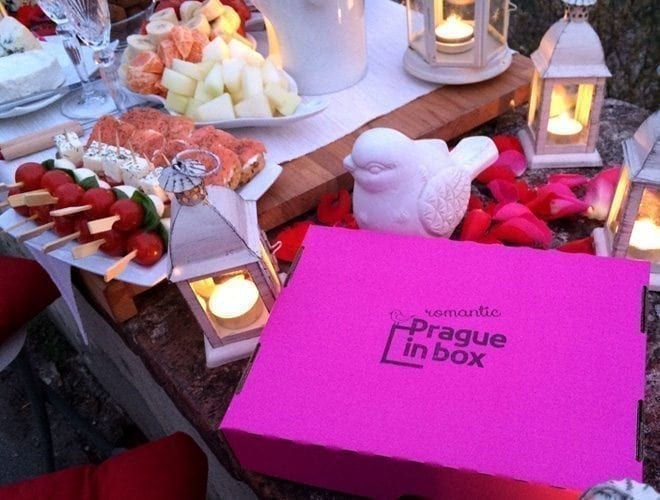 Prague has always been considered Europe's most romantic capital. There are many things that can help you turn your trip into a romantic getaway. Take a notepad, spend a couple of hours on Google and you'll have yourself a list of things to surprise your beloved with. But I can offer you a much easier way to make her (or him) speechless! Romantic Prague In Box is a new and wonderful addition to the service I am offering. And here's how it works.
You no longer have to search for the romantic things to do in Prague. The people behind the Romantic Prague In Box project already did that research. These girls know Prague first-hand, so the goal was to avoid the popular cliches and present you with a unique romantic quest ending (for now) with a wonderful dinner at one of Prague's many restaurants.
Taking it to the next level
Yep. Taking it to the next level was the first thing that came to my mind. It envolves some planning and coordination, but the effect, I guarantee, will be priceless! So here's the scoop. You arrive to your hotel, and suddenly find this box just casually waiting for you on the table. Inside you'll find everything you need to take your lover on a romantic journey throughout the beautiful city of Prague. After spending the day wondering around the cobbled streets and solving mysteries, you will suddenly find yourself in the middle of a park, opening a bottle of champagne, surrounded by candles… Lots of photos of the arrangement can be viewed here: www.instagram.com/praguefortwo
Basically, with Romantic Prague In Box my service has become a little more interesting and a bit more appealing. Especially for those who want something out-of-the-ordinary, and not just a romantic surprise dinner.
As I've already mentioned, 'the box' requires lots of planning and coordination, so please contact me in advance if you're interested in this offer.