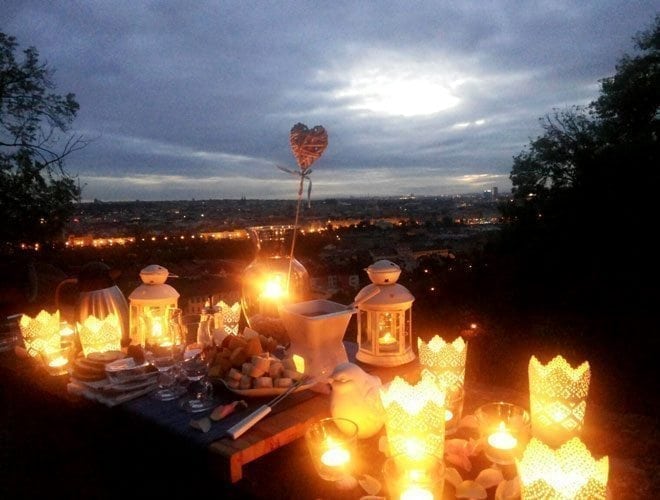 Ok, so you've probably already spent a couple of minutes on my site, and you need some answers. What does it cost? How do I pay? How do we get to the spot? Is someone going to meet us there? How much time do we have? Etc., etc. Well, I thought you might be wondering about these things. Here you'll find answers to most of your questions about your romantic surprise in Prague.
The most popular question: "What if it rains?"
Although it does not rain much in Prague, forecasting the weather used to be a problem. Because, well, you never know for sure. So I thought I get a 2.7 meter wide umbrella that provides perfect cover for my clients to enjoy their evening even during the rain. You'd have to watch out for some heavy wind (I mean really heavy wind) and hold the umbrella a little so it does not tip over or fly away on you (lifting 4 very heavy stone plates that keep it up), but for now I consider the weather problem solved.
What does it cost?
The cost of your romantic surprise in Prague depends on many things, i.e. the menu, the additional items such as a bouquet of flowers, and other options. Each event can be very different, but talking about average – most of my clients have paid around € 200. So, just contact me and you'll get your price quote in the matter of minutes.
How do I pay?
The payments are usually done through PayPal. As soon as we agree on everything, i.e. the time, the date, the things on your table, the additional items and options – I will put everything in an invoice and send it to you through PayPal. You can pay with either your PayPal account or card. If you're not happy with PayPal – bank transfer is also an option.
So, you don't accept cash?
I do. But rarely. An electronic payment is better for both of us. You can be 100% sure that your money is secure, and with PayPal – it is. And I can be 100% sure I am not going to get some counterfeit bills (can you believe I had a case like that in the past?). Also, PayPal payments are instant, which is good if you need to book fast.
You're not gonna scam me, right?
That's right! 'Prague for Two' is not some elaborate scam scheme, but a 100% legitimate business. Makes me pay taxes, but whatever. I have been doing this since 2010 and I wouldn't last that long if I was in it for some quick cash. I use my real name and provide you with all of my personal information i.e. name, ID and phone no., address, etc. I wouldn't even try to scam you, because 2 hours later you can be knocking at my door with a couple of policemen behind you.
And, of course, today you don't have to be Sherlock Holmes to identify scam businesses and services. Google does it for you! Travelers all over the world write blogs, comments and reviews, and any scam can be easily found.
Are you going to meet us and show where the spot is?
Nope! And believe me, you would not want that! We want to surprise your lover, right? We want the evening to be something totally unexpected, right? Well, that's exacty why I'm not going to meet you. In fact, I'm not even gonna be there when you arrive! I'll be there 2 hours earlier to prepare everything for you and leave seconds before your arrival. Just send me a couple of quick texts while you're on your way, and it's just you and your partner, casually strolling through the park and stumbling upon a romantic setup. No awkward moments, no "this way, please…", nothing to spoil your evening and your surprise! And that's the beauty of the service I provide! Of course, I'll be happy to meet you two afterwards, but I want you to enjoy your time first.
How do I find the location then?
According to 99.9% of my clients – easily! As soon as you book your evening I will email you a PDF document containing a detailed map of the way and my comments. It is going to be a 5-10 minute scenic walk along Petrin Hill. No trails, no going up or down in the dark. Just a straight asphalt alley with lights all over it leading you almost to the spot. She can even be wearing heels! (seems that's a pretty common concern)
How much time do we have?
As much as you need! It is your evening, and I want you to enjoy each other's company rather than look at your watch every 5 minutes. Don't worry about me. Just blow out the candles and send me a text when you're done. You don't even have to wait for me to come back.
Won't there be tourists walking by?
Not likely. The location is pretty secluded, especally in the evening.
Where are you going to be all that time?
Don't worry. I'll be at the parking lot close by if you need me.