I cannot remember how many times I have been asked the following: "Hey, Ilya, what do you think we  should do in Prague? Anything off the beaten path?" So, I thought, maybe I should start writing posts about things to do in Prague. Recently I've been spending a lot of time researching the market and looking for various ways to promote my own business. I've met some really cool people and stumbled upon lots of great off-the-beaten-path ideas some of which I would like to share. And, by the way, this is not even remotely related to advertising! I just want to make your Prague experience a memorable one. And, if you want a romantic evening to go along with all this fun – my services are always here for you.
Things to do in Prague: Prague in a Box
This one is among the most unusual and extraordinary things to do in Prague! Basically, Prague in a Box is a self-guided tour through the most romantic places in Prague, made exclusively for couples. The box contains a guide, and lots of different stuff to help you along the way, such as a lock you can hang on the LoveLock Bridge, or some food for the swans… I think this video will give you a better idea:
I've had a number of clients take this tour, and they absolutely loved it. So, if you're looking into some romantic things to do in Prague together with your partner – this one is just ideal! Visit www.pragueinabox.eu for more information.
Tour around Prague on-camera with Videoabout.me
OK, I know tours around Prague are not that difficult to find, and you probably got a couple of them booked already. But with Videoabout.me tours you don't just get a whiff of history. "Wait, Ilya, isn't a whiff of history kinda everything you need from these people?" Well, yes. But this is where it gets interesting. Your whole tour, either on foot or bike, will be captured on film, and in less than 24 hours you can share a professional, beautiful video (believe me, I've seen it!) with your friends and family using a Youtube link emailed to you. Visit www.videoabout.me for more details and booking, and this might be a good addition to your list of things to do in Prague.
Enjoy Prague from a Segway with only your lover by your side
Prague is literally packed with Segways. I mean, I never even thought there are so many lazy people in the world! Ok, just kidding. I actually tried this thing a number of times and I have to admit, that Segwaying around Prague is a lot of fun! But doing it in a group of weirdos like I did was not. It is especially annoying if you came to Prague with your 'special someone' and you want to spend some quality time together and enjoy each other's company while zigzagging through crowds of tourists and taking in the history. That's exactly what you get from Prague On Segway, a company I was once referred to by a client. Their 2-person tours are amazingly well planned (from what I see on the website) and I heard some great comments about their tour guides. I also noticed their high Tripadvisor rating, which can only mean a good thing. So, if you're looking into different things to do in Prague, contact these guys! CLICK HERE for more details.
Spend some quality time together at the Aquapalace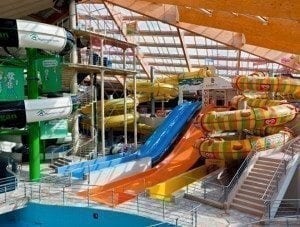 This might not be a good idea if you're in Prague for only a day or two. Why waist those days for something like that, right? But if you have a week or so to kill – why not spend a day riding the toboggans and hypoggans or soaking in the sauna together? Especially if you're not lucky with the weather, this is a good addition to your list of things to do in Prague. The Aquapalace is huge, and it's got attractions for everyone. Go to www.aquapalace.cz for more information and booking.