Czech Republic has always been a meat-eating country. Everywhere you look it's always goulash, pork knee, their famous 'svičková' (boiled beef with whipped cream and jam)… But things have been changing a lot during the last couple of years. Now there are tons of vegan restaurants in Prague, and I found out that finding a decent meal is no longer such a pain in the ass for a vegan/vegetarian person. You just have to know where to look.
Dhaba Beas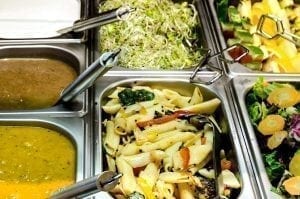 This is one of my favorites! First of all, these guys have 11 locations all over the city which makes them really easy to find. Second – they're a pay-by-weight buffet allowing you to try as many things as possible on one plate. This is a place for both vegans and vegetarians, and the food is always marked suitable for either one or both. Visit Beas-Dhaba.cz for more details.
Currently there are a little over 40 vegan restaurants in Prague, and most of those are a bit away from the historical center. I'm gonna try to keep as close to it as possible.
Forky's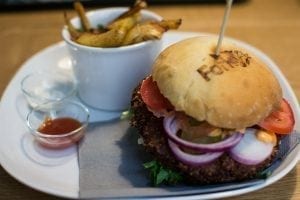 This place is literally minutes away from the Old Town Square. A "100% plant-based bistro" as they put it, offers a great selection of vegan burgers, hotdogs, kebabs and other delicious meals. Most people think vegan is all about eating tons of salad, but this place will easily turn that thought into nothing. Top of the list of vegan restaurants in Prague. Visit Forkys.eu for more info and locations.
Country life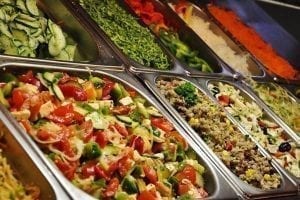 Country Life is probably one of the oldest vegan restaurants in Prague, and it's also located minutes away from Old Town Square. It is also a self serve, pay-by-weight buffet offering all kinds of food from beans and pasta to pizza and salads. A nice little vegan getaway spot among the "goulashes" and the "pork knees" of Prague's city center. Visit Countrylife.cz for more info.
Stay tuned for more vegan restaurants in Prague!