I know I might not be the first one (and, certainly, not the last one either) to write a post about where to eat in Prague. But this is not going to be about 'goulash'. And, certainly, not about trying to search for top-of-the-line foie gras in Prague either. This is going to be about real Czech food, and real places to get it. Not those touristy conveyor-belt-type restaurants you can find almost on any corner, but the ones where you actually walk into, and find the locals inside.
I gotta warn you, though. I am not that much of a food critic. I mean, you probably won't find me sitting in a five-star Michelin-rated posh place, eating something very small on a very large plate and going 'Mmmmm, I would have travelled thousands of miles through a burning desert for this blee-blooh-blaa-bleey' and paying a huge check afterwards. No. When it comes to food, my desires are usually very simple: I like it tasty and affordable. When I travel I usually aim to try as many local meals as I can, and I prefer doing it sitting next to locals.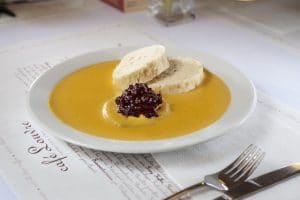 But it's always hard to find places where the locals go, right? Well, it's possible if you have a local guiding your way. If you're not that much of an explorer yourself you can always join a foodie tour and uncover what makes Prague so mysterious, intriguing and beautiful from the inside… through food! And the Eating Prague walking tour (which you can book here) is probably the one you need! These guys will take you on a 4-hour walk through Prague Old and New Towns — right in the heart of the city. You'll get to enjoy 7 authentic food tastings from locally-loved food stops. Besides some of the Czech Republic's most incredible desserts, you'll enjoy local specialties such as open-faced sandwiches and sauerkraut soup, and soak up some serious history in a cafe that dates back to the beginning of the 20th century and has played host to dozens of famous historical figures.
Ok, but if you're on your own… where do you find places like that in Prague? Where to eat in Prague away from the tourists? Probably somewhere on the outskirts, right? Not really. There is a number of great and affordable restaurants in the center of Prague (or very close to it) where you can actually find lots of locals and have a fantastic meal!
When I go to a restaurant my mind usually rates it according to my four pillars of eating out: the meal, the atmosphere, the service and the price. If I like the place – that means all of these are carefully aligned together in harmony, and I will definitely leave a good tip and be coming back soon. So this is not some kind of research done to impress you guys. The restaurants I talk about in this category are the ones I am perfectly happy with. The ones I enjoy coming back to on a regular basis.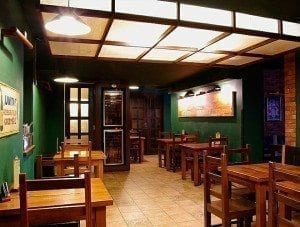 Zalezitost
Biskupcova 19, Praha-Zizkov
www.zalezitost.cz
This cosy restaurant with a beautiful garden terrace outside is one of the places I just love coming back to. You will find most of the traditional Czech dishes on the menu along with the restaurant's specialties. Believe me, you try anything off that, and there will be no limits to your satisfaction! Consider yourself even more lucky if you see a seasonal menu on the table, and if you're coming in the summer you can sit in the garden and try something off the grill. My personal favorite at Zalezitost is their tartare steak! Honestly, one of the best and most tender tartares I have tried so far. I have a friend back in Russia who would probably kill a person every day if she could have it as a reward. :) And don't forget to leave a generous tip – your waiter will definitely deserve it!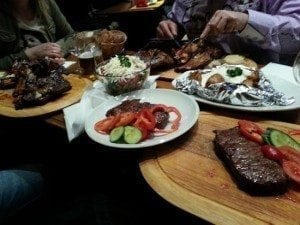 Pod Slavinem
Svobodova 144/4, Praha-Albertov
www.pod-slavinem.cz
When I think of this place I think of steak. And I am almost sad that I stopped eating meat, because this is what Pod Slavinem is all about. I would not call it a steak house, and I probably would not go there for some genuine steak experience. But I would definitely take a couple of friends and dive deep into the loud atmosphere of this great restaurant! You will always notice a large number of locals, and the prices won't empty your wallet. The only thing is – you should probably book a table in advance if you're planning to go there after 18:00. And don't pay attention to the website design. I know it's weird. It only means you're going to a genuine Czech 'hospoda'.
I am going to be updating this section, so check back soon for more great places to have a meal at!